2021 has been a stellar year for Tems. She featured on the Billboard chart alongside Wizkid and Justin Bieber, and also got herself a feature on Drake's certified lover boy album.
Tems has affirmed her position as one of the artists the world should watch out for in 2021 and beyond.
On Monday, the Alternative R&B singer dropped major news that will thrill music fans. Thanking her new and old fans for their support, she revealed her new EP would be released next week.
The announcement came via her Twitter handle. She wrote that,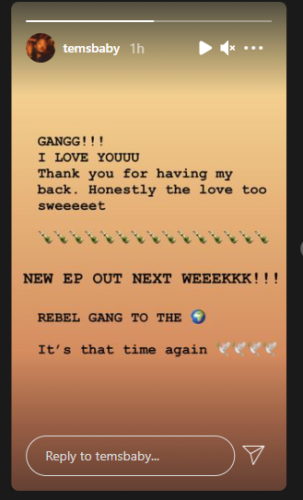 "My beautiful gang, thank you for the massive love you've shown me. It's too plenty. Honestly, believe me when I say I love y'all baaaaaddd. NEW EP OUT NEXT F*CKIN WEEK!!! It's time..."
The Singer debuted in 2019 with the tracks 'Looku Looku' and 'Mr. Rebel.' She followed it up with 'Try Me,' and then two more singles before releasing For Broken Ears, her debut EP. Watch out for next week when Tems will storm her audience once again with good music